We Create Confident Teams with Delivery Defined
The Final Piece of Transformation
Delivering an incredible environment specific to your culture and brand promise is a great step — but building a new space and integrating the latest technology alone doesn't guarantee success. It all comes down to your front line, your people who are tasked with delivering this to your clients. Our Delivery Defined program provides that final link to lasting Transformation by providing your staff with the tools they need to execute your strategic intent.
100% Customized for Your Unique Space
How we do it: we work diligently with you to frame a program and create tools specific to your financial institution, train your team, and provide ongoing support to ensure your staff continues to deliver as expected moving forward.
When it comes to delivering the ultimate branch experience, it isn't as simple as copying and pasting what's working for the financial institution next door.
Every financial institution is unique, from its branch design and technology elements to branch staff and clientele. This means your branch experience needs to be fine-tuned and customized to YOU.
That's exactly what we do in this step of the program: define what your ideal branch experience looks like.
We'll sit down with leadership and branch representatives to better understand your clients, your staff, and come up with a single vision for transformation.
Once you have defined the elements in your branch and how you want your team to operate in the new space, it is time to document it for training and repeatable success.
In this step, we create the playbook for your new branch.
This playbook not only documents every intentional design and technology element in your branch but also explains the intention behind it. And to take it another step further, it includes your operational intent, protocols, and expectations down to talk tracks.
Once your program is developed and documented in a playbook, it's time to train the team.
In this step, we get hands-on with your branch staff and training team and train them to this new space.
To lower emotional barriers around change, we approach this with a training program that answers the why behind the change, quickly demonstrates the impact of the change, and gets staff excited
The training is an entire day of interactive experiences, including playbook reviews, strategic conversations, role-playing, in-action coaching, and more. And the result is a team that is vibrating with energy and excitement to serve their clientele in their new space.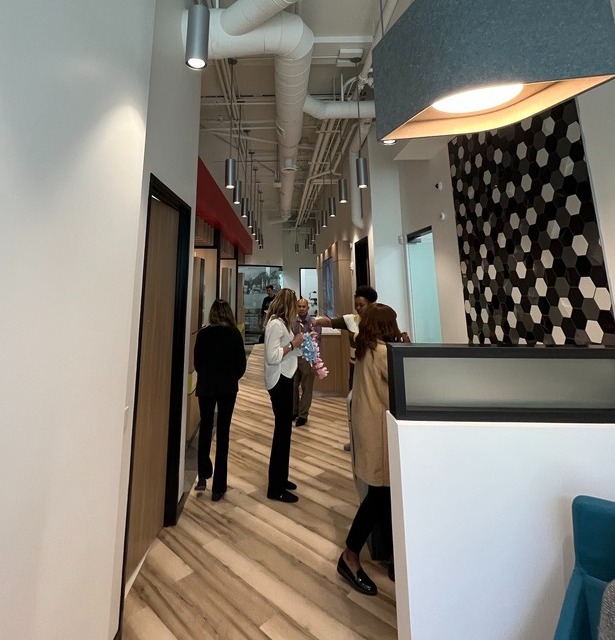 Once you are up and running, we don't just send you on your way. Establishing a new operational program in your space takes time and practice, and we give you just that.
This step starts at delivery and supports your team into the future.
For the first year after the delivery of the program, we take the journey with you. Our dedicated success package includes everything you need to make sure your investment doesn't get wasted, including program updates, retraining, and more.
Delivery Defined in Action
In 2020, Vantage West undertook a huge network expansion project, partnering with DBSI to add 10 branches in only 2 years. And with this project, they aimed to take it a step beyond just designing; they wanted to train their staff to operate in these new spaces.
With such a dynamic change in their spaces and not wanting to leave anything to chance—Vantage West Credit Union ensured their front-line staff was properly trained and ready to deliver the new staffing model by investing in DBSI's Delivery Defined training program.
Trust DBSI With Your Next Project
If you have a transformation project on your to-do list, let's talk about how DBSI can help make it happen.